Project
The same Bible but new religion (or new Christian denomination at least)
DONATE
Consider donating also to this site to support all projects on it.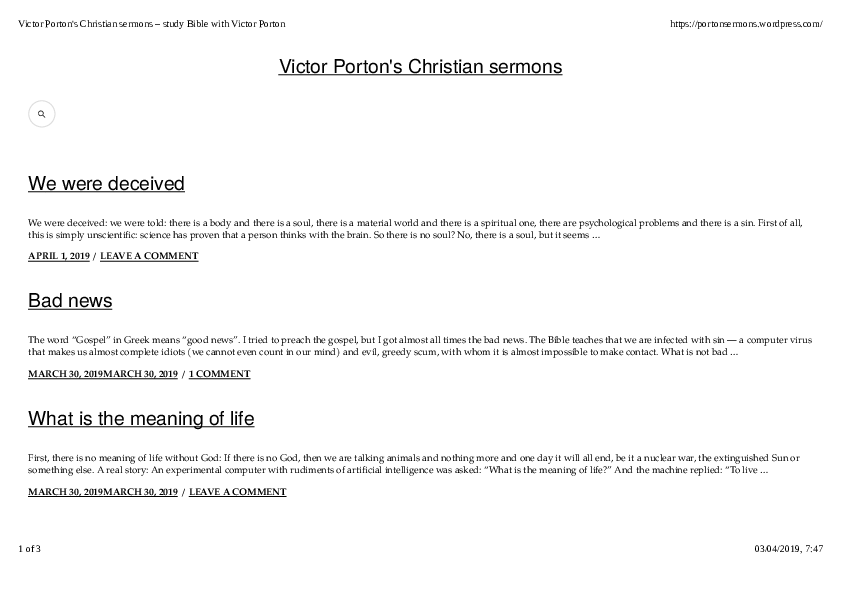 In the past we followed Torah. We now keep believing in Torah but don't follow the law anymore since the new revelation from Christ. In the same way since the new revelation from Christ we should no more follow the Gospel as a law, in the same way as we believe Torah but don't follow it. In other words, the age of Gospel and of the Church is ending.
One of the verses of the New Testament which shows that is cancels itself is (2Cor. 3:6) "Who also has made us able ministers of the new testament; not of the letter, but of the spirit: for the letter kills, but the spirit gives life." But New Testament is itself letter.
It is new religion, one of the world greatest events, support the freedom from old religion, all its troubles, conflicts, judging others.
It happened after I suffered much for my attempt to follow Gospel and preach it. I realized that I cannot do. If we cannot then it makes no sense to continue. See this short blog post.
More about my offense which caused me to repent and how I stopped to judge other people as I did under the old religion.
I wrote a book about this topic.
Also don't forget to like/share posts on my blog.
See also my Christian homepage.
The money you donate will be used to advertise this religious teaching (especially my blog and books, maybe in the future also writings and/or video by other fellow believers as I deems appropriate). Note that by the way I also promote a quite typical (but detailed) Christian "repent" message. Currently I am collecting money to my personal bank account, but I want to register a nonprofit (can't now due to bureaucratic reasons) to avoid paying taxes. Even if I raise full 10 billions, I am going to use for my personal benefit very little, as my main personal interest is to promote this teaching. I will most probably openly publish the income and expenses of this project on yearly or monthly basis. Controlling the nonprofit by a board voting rather than by myself is a future possibility, though not yet decided.
Project Ether withdrawal history.
User

Project created

June 5, 2019, 5:19 p.m.

Project last updated

March 2, 2020, 12:29 p.m.

Ethereum receive address

BitCoin donate address

More donate URLs

Token name

Token symbol

Project name

The same Bible but new religion (or new Christian denomination at least)

Allowed uses of money

Allowed using money for advertisment

True

Allowed using money for press releases

True

URL

Ownership

personal

Country

Israel

Organization name

Organization number
Old versions of the project
Old Ethereum smart contracts
owner: 0x36a0356d43ee4168ed24efa1cae3198708667ac0 / address: 0xa75478a504cd61c9b1da02c8e400a2d4b775f6af / symbol: END / name: End of Gospel